October 1999 - I made my ECCW New West wrestling debut

November 1999 - I was mentioned in the November 6th edition of the Vancouver Sun
- I was named the inaugural ECCW House of Pain Wrestler Of The Week

December 1999 - I officially graduate from the ECCW / NWA Pacific Northwest House of Pain Training School
- I was prominently featured in a Vancouver Television (VTV) news segment on Pro-Wrestling.
It was aired once in early December and once again during their year-end Best of 1999 special.
- I was featured with picture in the December 24th edition of the Langley Times

January 2000 - I was featured on the prestigious 1wrestling.com
- I was featured on the new NWA/ECCW TV Taping, ECCW Insanity
February 2000 - Wrestled on the 2nd ECCW Insanity TV Taping.
- Cut some promo's with former WWF Star, Kurrgan.
March 2000 - Victorious over UIWA Heavyweight Champion, The Player
- Got to meet and talk with Bret "The Hitman" Hart
April 2000 - I am scheduled to appear on WWF's Monday Night Raw, May 29th, 2000.
May 2000 - No news is good news.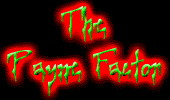 September 1999 - October 1999 - December 1999

January 2000 - February 2000 - March 2000