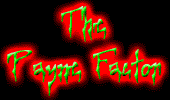 Well the year 2000 is upon us. Much to my chagrin there were no mass communication breakdowns, plane crashes, train derailments, banking malfunctions, or anything. I was earnestly anticipating some type of chaos or as the late Gorilla Monsoon would have said "Pandemonium". As usual Vancouver got the short end of the stick when it comes to New Year's celebrations. All the other cities had lavish fireworks display, light shows, concerts, etc. While Vancouver did have a Kiss concert going on in BC Place the local media chose instead to focus on a bunch of clowns dancing around on stage wearing lame costumes and playing ukuleles. This is the image the rest of the world will see of Vancouver welcoming the new Millenium.
Oh well, who cares about that anyways. Justin Payne is why you came to this site so let's get down to business. Justin Payne has been improving in leaps and bounds as of late. He holds recent victories over Count Monsterod Von Hugenstein, The Student, and Kid McQuick. Justin's unique and perhaps a little deranged personality seems to be attracting interest from the fans. He almost seems to have developed a regressive personality and has taken to wearing a soother to the ring. I'm not sure where this is coming from but it all seems to stem back to his loss of Samantha Slides at the hands of the sinister Count Monsterod. I'm thinking the feud between these two is far from over.
Justin Payne has been quite the media star as of late. He has been featured in the Vancouver Sun, the Langley times, and twice on VTV Vancouver Television. This is surely just a sign of things to come for this big boy from Port Coquitlam. Justin Payne is appearing regularly at ECCW House of Pain shows and will be popping up more often in New West in the near future. For now, that's about it. Happy New Year's Everyone.

The Mofo has spoken, you are dismissed.