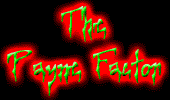 It's February 6th, 2000. I sit here and type this with a pack of ice on my knee after my match at the House of Pain today. Before I get into that let me just address some issues. I have been in the gym 6 days a week for the last month or so. I am feeling in the best shape of my life. Now any of you that come to the HOP or have seen me in New West might hear me say "the best shape of my life" and scratch your heads and think, he's not in good shape at all. Well, it's true I am a ways away from being a lean, mean, wrestling machine but if you saw Justin Payne a year ago or if you remember me from JXP days you probably know what I'm talking about.

I am absolutely swamped with schoolwork and haven't had much time to workout at the HOP lately. I have been busy in my local gym though. I aggravated an old knee injury a few weeks ago and unfortunately had to bow out of my 3 way match with Juggernaut and Chaos. I have a really bad left knee stemming from an old football injury. I really should have it in a brace or something but unfortunately, braces cost money. Something I am a little short of lately. I was supposed to be booked at the 1st ECCW Television tapings, January 26th in New West but due to forces beyond my control wasn't able to work a match. I did a SCUM interview with Silverspoon and had to pull apart Doby Gillis and Juggernaut during a "brawl" in the dressing room. That was the extent of my involvement.
As for you fans wondering about when and where the TV taping will be on, just be patient these things take quite some time to work out all the formalities. As of right now I am booked for Feb. 25th in New West. It is rumoured that I might be in a SCUM tag match against the High Fivin' White Guys. It should be an interesting night to say the least.