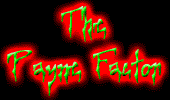 Ok, so I'm a little late in updating the Payne Factor, give me a break. So today it's March 16th. I'm writing this as Smackdown is on the background and I should be doing Math homework. I only have a month left of school and I am very happy about that. Things in life are pretty good. I have a new female companion and I was promoted at work. It's sort of a reverse promotion, less pay but an increase in respectability. That's ok by me. My movie pick this month would have to be Boiler Room with Ben Affleck. Favorite line, "I am a fucking millionaire. Do you know how it feels to say that?"
Let's talk wrestling. This past month has seen me score a victory over the UIWA Champ, The Player, Kid Wicked, and Mr. G Spot to name a few. Justin Payne whether you like it or not is slowly starting to get over. I wrestled Chance and Havoc at the last New West show. Judging from the responses on the ECCW message board and the flood of e-mails I received afterwards, my presence was definitely felt. Regardless of whether people are saying I suck or not, at least they're talking about Justin Payne. Any reaction is better than no reaction at all. Just ask Larry Zbysko Jr. for example.
I was offered opportunities to go down to Oregon and I was also offered a spot on the recent Northern Hell tour, all of which I had to turn down because of school. I'm telling ya, it's a good idea to get your education so you have something to fall back on but I have days when I question that. That's ok, this summer I will be taking every opportunity that comes my way. Justin Payne will make a name for himself in this business, one way or another.
I am currently trying the "Body for life" eating plan, suggested to me by fellow worker The Count. He has lost quite a few pounds on that program and I could definitely stand to lose a few more. So far it seems to be quite effective. I'm not that far into it yet, so stay tuned next month, I'll fill you in on how it's going. For now that's about it. I'd just like to thank all the people that have sent me e-mails of support and have mentioned my name on the message board. Whether or not you love me or hate me, I really could care less as long as you mention the name of Justin Payne.
The Mofo has spoken, you are dismissed.