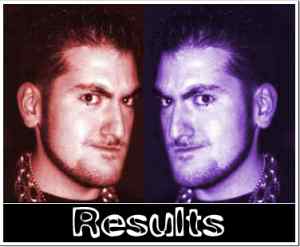 I didn't keep very good track of my record before October 1999.
I remember almost everyone I've wrestled but I can't always remember
the outcome.
Here's a list of who I've wrestled so far:
- Count Monsterod Von Hugenstein
- Moondog Manson
- The Prophet
- Lumberjack Bubba
- Hardcore Harold
- Bulldog Bob Brown Jr.
- Hans
- Pvt. Todd Kelly
- Rockin' Vengeance
- Disco Fury
- Marty Goldstein
- Barbra "Buffy" Republic
- The Student
- Kid Wicked
- "Southern Comfort" Ray Brooks
- Juggernaut
- Biohazard
- Tommy Obsession
- Backstreet Bobby
- Prince Alladiin
- Mr. "G" Spot
- The Player
- Havoc
- Chance Beckett
- Rockford 2000
- Redneck Bubba
- Playboy Buddy Rose Jr.
- "The Lone Wolf" Brian Bedlam
Recent Results
October 29th, 1999: Eagles Hall, New West - Doomsday Battle Royale
I was the 9th man eliminated in 15 man "Fans Bring The Weapons" Battle Royale.
I was busted open by a shot from a frying pan.
November -December 1999: House of Pain, Langley
I had a hardfought series of matches with The Count resulting in us trading
victories and I lost an opportunity to have Samantha Slides as my valet.
Also had brief series with The Student resulting in us trading victories as well.
January 2000: House of Pain, Langley
January 2, 2000 - Defeated newcomer Kid Wicked in a decent match.
January 9, 2000 - Defeated Tommy Obsession in a pretty hard-fought match that spilled to the outside.
January 16, 2000 - Lost by disqualification to Juggernaut when Chaos interfered.
January 23, 2000 - Triple Threat Juggernaut vs. Justin Payne vs. Chaos - I had to cancel my appearance due to a knee injury.
February 2000: House of Pain, Langley
February 6, 2000 - Defeated Mr. Gary Spot in an interesting match. Huge 6'6" newcomer Mr. "G" Spot put up
interesting offence and the match spilled to the outside where the fans got involved and one lucky fan held a chair that "G" Spot was supposed to take to the head but he reversed and I ended up biting the wood. Overall a decent match with a semi botched ending. My attempt at a Rock Bottom was futile as the big "G" Spot wouldn't go up so I finished him off with a corkscrew splash off the ropes.
February 13, 2000 - Defeated Kid Wicked with a textbook Tiger Bomb. This was a decent match with nice
spots. It spilled to the outside and I took some mean bumps on the concrete. I bruised my hand and my ribs pretty nicely. Kid Wicked is developing quickly and shows a lot of promise. If he can stay healthy look for him to make an impact in ECCW in the next few years.
Match #2 "Over The Top Rope Battle Royale" - This match featured many of ECCW's up and comer's including, Pvt. Todd Kelly and The Recruit, Buffy, Havoc, Playboy Buddy Rose Jr., Baboo, Harry "Nut" Zack, The Player, Rhett Dixon, Mr. Feelgood, and others.
This was an entertaining match especially when I beat down Buddy Rose Jr. in the corner and gave him the Al Snow "Bowling Ball Treatment" to the nuts! The Player and I formed some sort of alliance during this match and we managed to eliminate every one of those other punks. The Player and I ended up as the last two men in the ring, I thought maybe we'd just take a draw on the win but in wrestling it's every man for himself and the Player did exactly what he should have done by trying to clothesline me over the top rope. This would have been an intelligent move had he been facing a lesser opponent but I used his momentum to pull him right over top with me! Ha ha! I thought I had shown him! Then from under the ring, the stupid freak from England, Harry "Nut" Zack, crawled into the ring to take the win. Turns out he never got eliminated and was hiding under the ring the whole time! What a sneaky s.o.b.! I have to give him credit for ingenuity though, I think he's watched one too many Jimmy Hart highlight reels. One downside to this match was I heard my knee make a few more of the dreaded popping sounds. We'll see tomorrow the extent of the damage!
February 25, 2000 - Eagle's Hall, New Westminster
Justin Payne & Playboy Buddy Rose Jr. vs. High Fivin' White Guys
This match got off to a rough start right away as I went to attack Havoc but slipped on some water left from melting ice cubes thrown in by the ignorant New West fans. Things then went from bad to worse as the two opponents used some quick maneuvers to neutralize our offence. I got nailed with a DDT out of nowhere and before I know it, FrogSplah, BOOM! Moonsault, BOOM, and it was lights out for Justin Payne. Playboy and I have to change our game plan a bit
and next time we meet those two punks we'll have a few more tricks up our sleeves and it will undoubtedly be a much different story.
March 2000: House of Pain, Langley
March 5, 2000 - This was an action packed show at the House of Pain that featured Juggernaut vs. IWA Japan Tag Champion Leatherface. I had the opportunity to face UIWA Washington Heavyweight Champion, The Player. He is a solid young competitor who already has experience working the North West. That being said, he is still no Justin Payne. We had a nice match which in typical fashion spilled to the outside where I smashed Player's face into the steel mesh in the surrounding ring area. I bashed up my knees pretty good doing a splash on the concrete. Back in the ring I hit a Tiger Bomb on The Player only to have him kick out at the last second. He then turned things around and hit me, yes me with a powerbomb of his own. He thought it was over but leave it up to my trusty partner Playboy Buddy Rose Jr. to save the day. As I distracted referee Buffy, Playboy attempted to crush Player's trachea on the top rope, that was enough to daze the Player and allow me to score the 1,2,3. Yes! NEW UIWA Heavyweight Champion!!!!! But wait just a second, that slimy Player had a clause in his contract that made it a non-title match. So fine, he is still the champion but I'll see to it next time that my crack team of attorney's draw up a little contract of our own and then we'll see who is leaving with the belt. Playboy, SCUM and I will reign supreme and the gleam of the gold will soon adorn our waists.
March 12, 2000 - I got thrown into an impromptu match with the new ECCW "sensation" Rockford 2000. All I can say is Stiff-Fest! It was a decent match, with him really working over my bad knee, and it ended when Rockford powerbombed me to the ring and pinned me. What's with me getting all these powerbombs lately? I'm not sure I like this new trend.
Match #2 - Later on in the show we had a 6-man tag team match that consisted of Rockford 2000, Havoc, and Buffy, vs. myself, The Recruit, and Mr. G. Spot. This wasn't the best planning because nobody on our team can stand each other so the whole match turned into a big fight with everybody in the ring going at it. Then for some damn reason everybody turned on me and hog-tied me in the middle. Buffy was whipping me with a leather belt, I think she enjoys the dominatrix role. My poor welted back has seen better days though. To be honest I have no idea how the match ended, I was too busy trying to get myself untied.
April 16, 2000 - I hadn't wrestled in over a month. I show up on Sunday at the House of Pain and get thrown into a hardcore streetfight with Redneck Bubba. This match started out in the ring but quickly spilled to the outside. Bubba smashed an aluminum ladder over my back. I stupidly didn't realized the ladder was broken and just as I was about to fly off the top rung, the entire ladder colapsed sending me falling 12 feet down to the bare concrete floor. I damn near broke my leg. That didn't stop Bubba, he then launched me down a row of chairs sending audience members flying! He was hitting me with everything he could get his hands on. I was able to fight back and drilled him with a very stiff (sorry about that) chair shot, and then I took some kids bike and used the back wheel like a grindstone on Bubba's face. Anyways, to make a long story short, the ref got bumped and Bubba hit me with a jaw-crushing stunner to take the win. That's what happens when you wrestle the booker, you get taken to school!
May 2000: House of Pain, Langley
May has been a strange month and somewhat inconsistent as far as wrestling goes. I have had some really eye opening experiences, as far as who I can trust or not. My own partner, Playboy Buddy Rose Jr. sold me out for the faggoty High Fivin' White guys, we ended up having a pretty brutal match at the House of Pain on May 7th. Last Sunday, I was out assessing one of our new wrestlers "The Lone Wolf" Brian Bedlam, and that punk decided he wanted a match right then and there on the spot. Well you know I gave it to him allright but I think I ended up with the worst of it. The guy illegally smashed me in the head with my own steel chain, and just about knocked me cold. I don't who this punk is and where he gets off, just coming out of training and thinking he's tough shit. He's got another thing coming to him, though, his day of recconing is looming on the horizon. There's only room for one big tough Mofo at the House of Pain and he is I and I am him. The House of Pain ain't big enough for both of us.