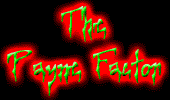 So the Christmas season is upon us and with it comes all sorts of change behind the scenes in ECCW. I won't
delve into that too much because you can find out all you need by checking out the ECCW Forum . I guess you could blame it on El Nino or something. ECCW is having its Y2K problems a little early. Enough about that because we have more important things to get to.
For those of you astute enough to watch the evening news you might have caught Justin Payne featured in a segment on Vancouver Television. He took a wicked chair shot from Juggernaut and lived to tell about it. There also has been some rumblings as of late that Justin Payne should be showing up more prominently in the ECCW New Westminster shows. But don't be expecting the Justin Payne you all know and love because, the ECCW brass has others things in mind. Let's just say the tag team situation is about to heat up.
Justin Payne has finally finished his semester at Douglas College and is anxious to get back to some serious training throughout the holidays. To any movie buffs out there, go see Deuce Bigalow, Male Gigalo. That was a funny movie!
To anyone who doesn't have New Years Plans, come out to Malone's Sports Bar and Grill in Coquitlam this New Year's it promises to be an awesome night and will surely sell out. Tickets are available by calling (604) 464-5551.
As for now we have an awesome House of Pain show planned for this Sunday, December 19th, and best news of all, it's free! This free show is ECCW's christmas present to all our fans who have supported us throughout the year.
Justin Payne is still pretty upset about losing to Count Monsterod in the "loser keeps Samantha" match a few weeks back. The pain and grief losing the love of his life Samantha Slides has left a devastating impact on the man. Justin has been receiving some psychiatic evaluations to deal with his mood swings and unstable temperament. Thankfully, the doctors have him on strict medication and therapy. Let's just pray, for the love of god, that he follows doctors orders or else there could be a lot of trouble for everyone.

Webmaster Jon Hamlin
December 18th, 1999 - 4:06pm